I know that many readers here already know Jill, the fierce Mama Bear and feisty redhead expecting Baby Joshua. But I also know there are friends and family who read this blog who may not be familiar with their story.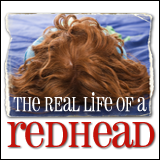 Our introduction happened in kind of a convoluted way, though I suppose with our general immersion in a variety of social media, such connections might not be all that unusual. Thanks to some strategically timed hashtags I used on Twitter (#CHD),
Kristine
-- a tremendous advocate and warrior for CHD awareness -- found us and connected us. Jill and I were each embraced by this community of "heart moms" -- moms who had given birth to babies with congenital heart defects.
Jill and I connected in a special way (I think) because we were anticipating these births -- we were so very new and just becoming acquainted with the world and the language surrounding CHDs, the community, the work already being done, and so on. At about the same time, we were surrounded by a host of other mothers who had been through what each of us is about to face -- people who could relate to the unique difficulty of the circumstances we each faced at a time when it was so easy to feel very, very alone.
Jill and her family are just days away from meeting baby Joshua, who has been diagnosed with
Hypoplastic Left Heart Syndrome
(HLHS for short). For HLHS babies, the left ventricle of the heart is too small or not well developed. The mitral and aortic valves are either not present, or are much too small. Additionally, the first portion of the aorta is small. Combine all of these defects, and it means that the heart is not equipped to pump sufficient oxygenated blood to the body. Like Ewan's Tetralogy of Fallot, HLHS is a very serious heart defect that will require surgery almost immediately after his birth.
Jill is scheduled for an induction at 6 a.m. on Monday, August 16 (Central Time). Though each of our hearts have been preparing for these journeys since we found out about our boys' hearts, this is the moment when it really begins -- when he no longer is nourished and sustained by her body, and these two amazing parents hand over their baby to skilled surgeons and nurses to repair his perfect, broken little heart.
I would love it if the readers of this blog would pray for Jill and her husband Shane, as well as big brother Caleb and big sister Hannah as they prepare for baby Joshua's arrival. Jill will tell you this boy is very feisty (much like his buddy Ewan), and I for one am counting on him to give HLHS a fight like it's never seen. I'm hoping HLHS won't know what hit it! Please join me in praying for and encouraging this family as they begin this journey unlike any other.
To stay up to date on their story (or to catch up to where they are now), you can visit Jill's blog by clicking on the button above.